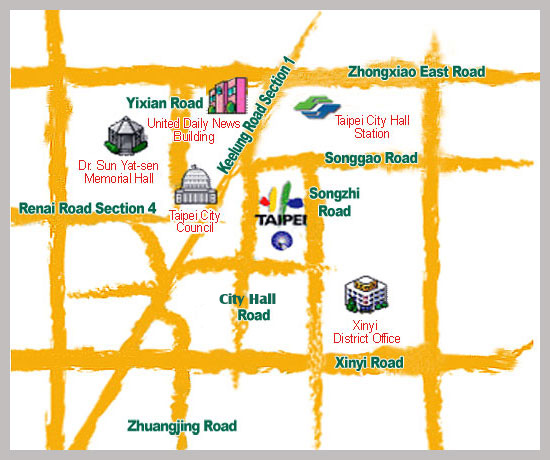 Taipei City Government, the administrative hub of the city, was founded in October 1945 as a provincial municipality.
After Taipei was raised to a Cabinet level municipality in 1967, its services grew tremendously with the large increase of population. The old city government building could only accommodate about 1,000 employees, and many units were scattered in various rented offices.
In order to carry out the entire work performance of this government to its best and to enhance the service quality for citizens, a new city government building was erected in Xinyi District in 1994.
The new city government building is a 12-story architecture with a total floor space of about 197,000 square meters, capable of accommodating 6,000 employees. In the high-ceiling patio and the Family Theater on the second floor, events such as arts exhibitions and performances, as well as speeches are frequently held, and they are loved by city citizens.
A wide range of activities and large-scale events are also organized in the City Plaza in front of the building to provide citizens with diverse choices for recreations.
City Hall Building
Address: No. 1, City Hall Rd., Xinyi District, Taipei
Opening Hours:
Access Control for Office hours and Non-office hours
West Wing Exit: open 24 hours a day.
Other Entrances
Monday – Friday
a. South Wing Exit: 07: 00 am – 7: 00 pm
b. East Wing Exit: 07: 00 am – 10: 00 pm
c. North Wing Exit: 7: 00 am – 9: 00 pm
d. Basement Parking Lot Entrance: 7: 00 am -8: 00 pm
Weekend and Holiday: all exits will be closed except for the West Wing Exit.

How to get to City Hall:
BUS: 202, 266, 266 (Shuttle), 270 (Shuttle), 28, 311, 537, 647, 912, 915, BR6, BR7, G1
MRT: MRT Taipei City Hall Station (Bannan Line)
City Hall Facilities:
City Hall Facilities
Citizens' Petition Area
Located in Southwest Wing Entrance.
Space occupies 120 pings (36.3m2) and stretches to southern part.
Family Theater
Address: 2F, No.1, City Hall Rd., Xinyi Dist., Taipei City (Taipei City Hall, Central Area)
Tel: (02) 2720-8889, ext. 3351
Fax: (02) 2345-6310
Discovery Center of Taipei

http://discovery.gov.taipei/en/museum