Welcome
Welcome to Taipei City Government's English-language resource page on COVID-19. This page provides useful information and links from government agencies in Taiwan working to address COVID-19. We recognize English-language resources are currently spread out on various webpages and can be hard to navigate as some websites are not fully translated. We hope that by having access to a consolidated webpage fully in English, our foreign residents can easily find relevant information from our government agencies.
This page is managed by Taipei City Government and is reviewed and updated regularly. For real-time updates from Taiwan's Central Government always first check theTaiwan's Centers for Disease Control (CDC)Website or call the 24/7 CDC hotline at 1922.
---
Table of Contents
---
Video Messages from Taipei City Government
Mayor Ko Wen-Je's Message for Taipei Metro Passengers
Taipei Metro Epidemic Prevention Public Service Announcement. This announcement is currently playing in all Taipei Metro stations and trains.
Deputy Spokesperson Kuan-Ting Chen's Message for Foreign Residents
Mr. Kuan-Ting Chen, Taipei City Government's Deputy Spokesperson, addresses foreign residents in our city and shares the scope of city government's efforts to contain the spread of COVID-19.
---
Taiwan Center for Disease Control
The Central Epidemic Command Center run by Taiwan Centers for Disease Control is the agency in charge of coordinating Taiwan's COVID-19 response. For real-time information and resources on COVID-19 in Taiwan please check their multilingual resources page. We have also posted some of the most commonly requested resources produced from the CDC on this page.

To Reach the CDC by Phone Dial: 1922
This is a 24/7 toll-free hotline for Communicable Disease Reporting and Consultations. Click here for more details about the CDC hotline.
Youtube Playlist of CDC Public Health Videos
Click here for a playlist of all CDC created videos with English Subtitles. Topics covered are proper hand washing procedures, workplace disease prevention, tips for eating at restaurants, tips for parents, and more.
---
Taiwan's Ministry of Health and Welfare
Below you will find English-language materials that the Taiwan Ministry of Health and Welfare published on its Facebook and Twitter pages. For real-time updates, follow The Ministry of Health and Welfare on social media. Most of the posts from the ministry will be in Chinese only. However, Facebook and Twitter provide one-click translation, and we will also work to post English versions of any helpful public service announcements.
Hygiene Tips
Avoid touching your face!
Wash your hands frequently!
Cover your mouth and nose!
Reminders to Follow Quarantine Rules
Please note these rules only apply to those under mandatory government ordered health quarantine.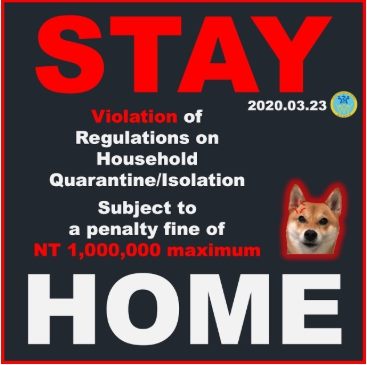 Stay at home if ordered to do so by health authorities!
Maximum NT 1,000,000 fine for breaking home quarantine!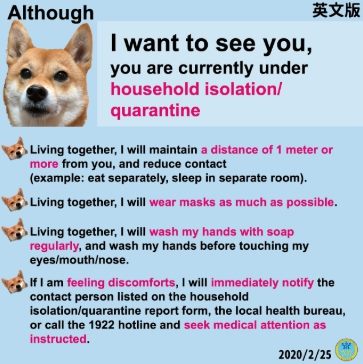 If you live with someone under quarantine follow these tips!
---
How to Buy Surgical Masks
Explainer video on the mask buying process at pharmacies
Taiwan has a mask rationing system that ensures hospitals and vulnerable populations get surgical masks first. Masks that are leftover are then sold to the public via a rationing system. Watch the video to learn how to buy masks under Taiwan's mask rationing system.
Mask Buying Process at Taiwan Pharmacies
Explainer video on the online eMask sign up process.
Learn how to sign up for Taiwan's eMask system in less than 4 minutes! With this new website you can save up to 30 minutes a week on the surgical mask buying process in Taiwan.
eMask Sign Up Process
How to wear a surgical mask properly
Watch this video from Taiwan's CDC on the steps you need to take to wear a surgical mask correctly.
Taiwan's National Immigration Agency and Bureau of Consular Affairs
The National Immigration Agency has a press release page in English dedicated to COVID-19 that can be found here. The Bureau of Consular Affairs has a press release page in English with information about visas here. While most government agencies have English-speaking staff, you can also use a 24/7 foreigner hotline run by the National Immigration Agency with translation services that can be reached at 0800-024-111.
Dial 0800-024-111 for the 24/7 Foreigner Life Advisory Service Hotline
This 24/7 hotline for foreigners can help provide information on the following:
Visa issues
Work issues
Education issues
Tax issues
Health insurance issues
Healthcare issues
And more...
The hotline can also help translate for you if you are having difficulties communicating directly with a government agency over the phone.
---
---
Transportation
Starting April 4th, face masks are required on the MRT, buses, taxis, TRA, and HSR. Failure to comply with staff reminders to wear a face mask may lead to a fine of up to 15,000 NTD.
Taipei Metro Mask Video
Watch this video from Taipei Metro reminding passengers that they must wear face masks for their entire trip and listen to staff directions.